.

Misschien slaat u dergelijke zaken over, maar onder de hoofding Opinie&Analyse heeft de kwaliteitskrant elke zaterdag een entertainmentrubriekje, De Vraag van de Week, waarin BV-s losjes over de actualiteit mogen keuvelen. – De onnozelheid van die titel alleen al! Alsof maatschappelijke thema's zich per week voordoen, net zoals vroeger de cinemazalen elke week een nieuwe film toonden – Gewoonlijk zitten er enkele correcte politici of ambtenaren tussen, een correcte zanger of sportsman, voorts een paar lezers (al eens minder correct), en om het vol te maken wordt de zaak gestoffeerd met woestijnvislullen.
Analyses kunnen deze mensen niet leveren, en dat wordt hen ook niet gevraagd. Meestal worden zij geconfronteerd met een feel-good question – het weekend staat voor de deur.
Een paar vlotte, vermoedelijk telefonische babbeltjes over allerlei indrukken en gevoelens, daarnaast een kolommetje met Vandermeersch' eigen bedenkseltjes, en alweer is een bladzij vol gedrukt! Je hoort vaak van wél, maar kwaliteitsjournalistiek hoeft niet duur te zijn. On peut être heureux à peu de frais.

Vraag van de week was: "Bent u bang voor een aanslag?"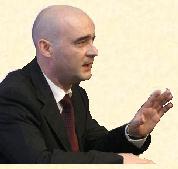 ij de eerste reactie was het meteen raak: we vernemen dat de baas van het spoor, ex-kabinetschef Jannie Haek zich op zijn gemak voelt in de Brusselse metro met die brede perrons, terwijl hij de smalle pijpen van de Londense metro maar niks vindt. Verstandige praat van Haek, maar van die man wisten we al dat hij kwaliteiten bezat.

Als tweede komt een verkozene des volks aan het woord, zeker Europarlementslid Said El Khadraoui. Hij begint nog voorzichtig, maar verliest al snel de pedalen:

"We mogen nooit gerust zijn. Een aanslag kan altijd, maar laten we niet vergeten dat België fel gekant was tegen de oorlog in Irak. Hopelijk heeft dat ons wat goodwill opgeleverd bij de terroristen."
Dit is ontoelaatbaar en onverenigbaar met enige beschaving: die mijnheer heeft blijkbaar nooit geleerd dat een democratie geen
goodwill
koopt bij terroristen, nog gesteld dat zoiets mogelijk was. Daarbij lijkt hij te willen suggeren dat het de moslimterroristen om Irak te doen is. Belachelijk! Ook zonder die oorlog wilden islam-ideologen Europa
destabiliseren
, met aanslagen als het moet, maar met steeds op de achtergrond de demografische druk. Iemand sprak in dit verband nogal scherp over het
terrorisme van de baarmoeder
. Doel is dat Europa ooit ten prooi valt aan hun achterlijke theocratische denkbeelden.
In een rubriekje als
De Vraag van de week
is Khadraoui op zijn plaats, echter: ik onthoud dat deze mijnheer niet in staat is tot, of wijselijk afziet van een analyse van de aard van het moslimterrorisme
[*]
, en dat zijn uitspraak hem een rel van eerste orde zou moeten opleveren, of tenminste enige billenkoek, maar zover komt het hier nooit.
I
k weet niet of de rest van zijn indrukken u zal boeien, maar Khadraoui had nog een beschouwing van statistische, of liever speltheoretische aard – volkomen misplaatst natuurlijk: het geeft geen pas om hier aan kansberekening te doen – maar behalve dat ze zinloos is, getuigt zijn uitspraak ook van een slecht ontwikkelde
humanitas
:
"Brussel blijft wel de hoofdstad van Europa, dat is een belangrijk symbool. Maar ik laat er mijn levenswijze niet door beïnvloeden. Een aanslag kan overal gebeuren, ook op een rustig eiland. En het risico dat je bij een aanslag betrokken raakt, blijft nog altijd zeer klein."


Daarna kwam dan een lezer die zinnige dingen zei, en de "
clash of civilizations
" er bij betrok. Niet zo gek, maar het was al gauw weer de beurt aan
Margriet Hermans
&cet. en daar stond mijn hoofd niet meer naar.
De Standaard besluit vrolijk:
De discussie gaat door op onze site:
www.standaard.be/forum
[* - voetnoot toegevoegd op 16 juli]

In het lievelingsblad van onze vriend El Khadraoui, in Le Monde van 14 juli verklaart de veiligheidsexpert prof. François Heisbourg, voorzitter van het

IISS

, het Internationaal Instituut voor Strategische Studies:
Nous ne connaissons pas les motivations spécifiques des terroristes de Londres. Ce que nous savons à travers les déclarations des groupes se réclamant d'Al-Qaida, c'est que ces terroristes nous attaquent pour ce que nous sommes, pas pour ce que nous faisons.
L'Irak, le Proche-Orient, ne sont évidemment pas absents mais ils ne sont pas déterminants. La France, qui n'a pas de troupes en Irak, est tout aussi menacée ; plusieurs attentats ont été déjoués. La connexion avec l'Irak est ailleurs. Ce pays est devenu une sorte de libre-service du terrorisme, dans lequel toute une série de personnes peuvent se former aux techniques de la guérilla urbaine.
Ook hij lijkt niet geneigd om de analyse van Khadraoui ernstig te nemen.